Guyana TransAgriDom meetings, week of October 21, 2019
The TransAgriDom project aims to accentuate the synergy between territories and actors of the Innovation and Agricultural Transfer Networks (RITA) to ensure the agro-ecological transition in the French overseas territories. It thus brings together around twenty partners, including Solicaz. These various partners meet at least once a year to carry out interDom workshops punctuated by a few field visits. Solicaz is the coordinator of the "crop fertilization and soil fertility" action.
A first meeting took place during the international agricultural show in Paris in February 2019. Solicaz was able to co-facilitate with the Chamber of Agriculture of La Réunion, a workshop on the use of organic materials in agriculture in French overseas departments, the aim of which is to pool knowledge on this subject.
The week of October 21, 2019, these meetings between partners of the TransAgriDom network took place in Guyana. Solicaz led a workshop on indicators of biological soil fertility and participated in the organization of field visits. Solicaz intervened in various workshops, in particular that devoted to service plants by presenting local results from our research work. Solicaz also co-produced a film on organic soil fertility, shot during this event, which will soon be available.
The summary of discussions on the various workshops and field visits are available on the inter-RITA COATIS information sharing site.
For more information, a poster on the use of soil biological fertility indicators (PDF)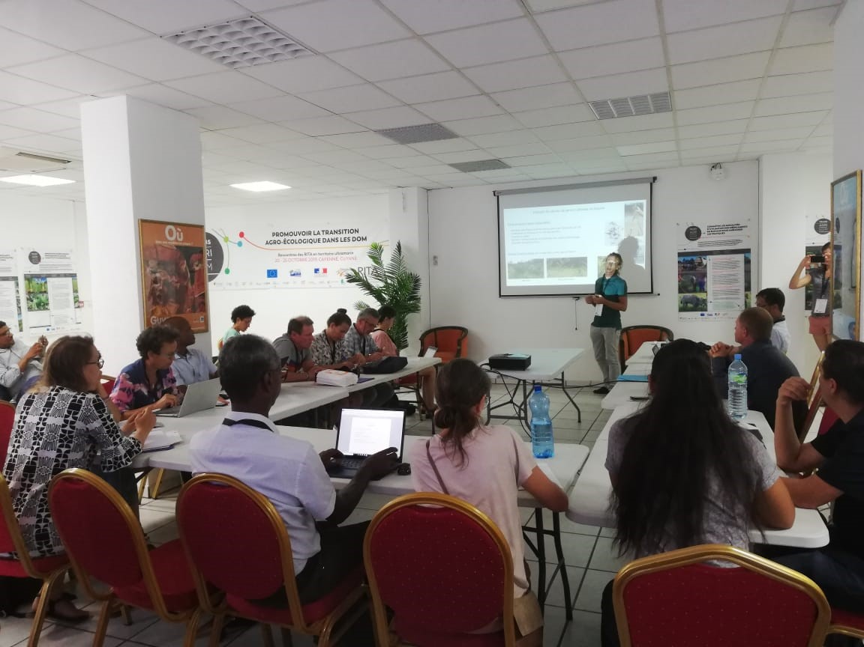 Solicaz's intervention during Workgroup