Solicaz at the 2014 Pollutec show
POLLUTEC is an environmental and energy fair, bringing together professionals from all over the world.
It serves as a springboard for international cooperations by allowing more than 2,000 exhibitors to present their research and their work to more than 60,000 visitors, many of whom are professionals seeking possible partnerships.
F.ETIENNE and A-M.DOMENACH discovered some of the 155 innovations presented in previews and followed a few conferences while meeting various companies to present the work of Solicaz on the biological functioning of soils and the revegetation of mining sites.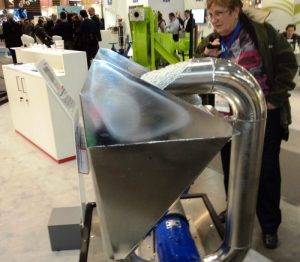 A-M.D in front of the equipment of a wastewater treatment company