ARAG (2016/today)
The Rural Agricultural Association of French Guiana (ARAG) was founded in 2010 by a group of farmers and people committed to the promotion of the French Guianese heritage and to production.
Through reasoned agricultural practices of plants whose heritage stems from the Amazon basin, ARAG also strives to conserve and enhance archaeological and rock heritage located on the Domaine Pascaud, currently owned by CTG. During the years, 2015 and 2016, ARAG led the ACI MAHURY workshop, which contributed to safeguarding the archaeological furniture and development of the sites to manage. Moreover, ARAG promotes social and professional reintegration of employees from priority public integration, with their ethnolinguistic and social diversity. Two new integration initiatives have started this year: the ACI MAHURY PATRIMOINE, in charge of archaeological conservation and the ACI MAHURY AGROECOLOGY, responsible for organic agricultural production.
Solicaz regularly solicits help from ARAG. Kevin, a former employee of the association, has now been working at Solicaz for over a year.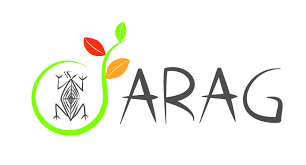 : arag973.fr